Nottingham Castle Museum & Art Gallery has invited us to display our touring exhibition 70 Objeks & Tings as part of the national 75th Windrush anniversary celebrations.
The exhibition, accompanied by a book of the same name, tells the stories of the pioneering Windrush Generation in their own words, and celebrates the amazing contributions they have made, and continue to make, to life in Britain, including Nottingham.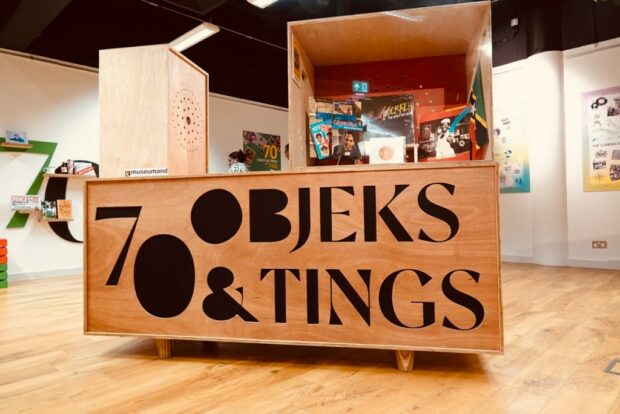 The title, 70 Objeks & Tings, is a nod to patois, a traditional form of language for many Caribbeans, with objeks and tings referring to the objects and things that Caribbeans, especially those of the Windrush Generation, hold dear and are important to them.
Created to bring the book to life, the touring exhibition includes a collection of items exploring Caribbean Food, Caribbean Contributions to the UK, Caribbean Homes in the UK, Caribbean Hair, Beauty and Dress, and Caribbean Culture – giving visitors the chance to get up close and personal to some of the 70 objects and things featured in the book.
"I hope 70 Objeks & Tings will help visitors to the Castle explore aspects of Caribbean culture they may not have discovered before, and give members of the Windrush Generation the chance to reminisce. We created the book and exhibition as a fun and inspiring way to learn about the Windrush Generation – through the stories of over 180 Caribbean elders that made Britain their home, and 70 everyday objects and experiences familiar to both Caribbean and British life." Catherine Ross, Founder and Director, Museumand
70 Objeks & Tings will be on display at Nottingham Castle Museum & Art Gallery from 26 June to Sunday 29 October. For opening times and more information, please visit: www.nottinghamcastle.org.uk