In collaboration with East Midlands Railway (EMR), we're hosting a special Heritage Train Trip for former railway workers and their families – as part of the national celebrations to commemorate 75 years of the Windrush Generation's extraordinary contribution to the UK.
The Heritage Train Trip will leave Nottingham station on 18 July and travel to St Pancras station in London. Former railway workers will be invited to share their stories and memories of working with Black colleagues in the Windrush era, and there will also be an on-board exhibition exploring how the Windrush Generation helped to keep Britain's railways on track and settled into railway communities. The invaluable oral histories of former railway workers will be recorded by us, so they can be preserved and shared with future generations.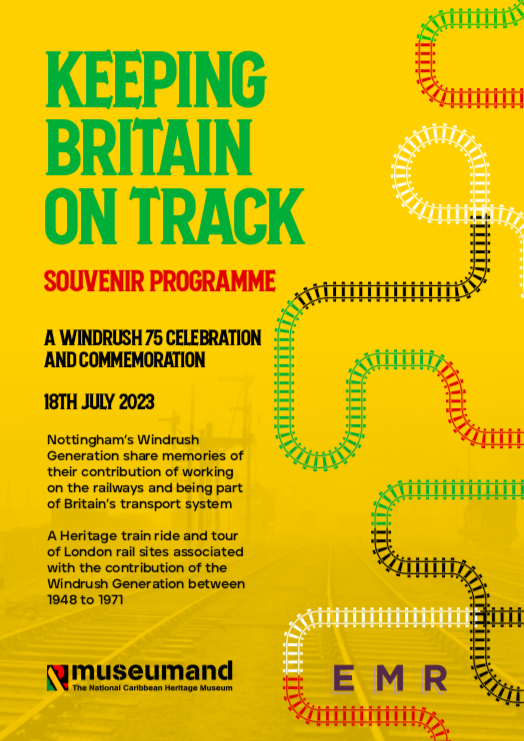 Members of the Windrush Generation worked across the railway, from laying track to maintaining trains and cleaning carriages. In an age where they often faced inequality and racism, Black railway workers had to fight hard for promotion, especially when it came to being given public facing roles at stations and on trains, and skilled jobs such as driving trains.
"It was hard work, dirty and at times dangerous, but there was always time for a laugh and a joke, despite the prejudice and discrimination."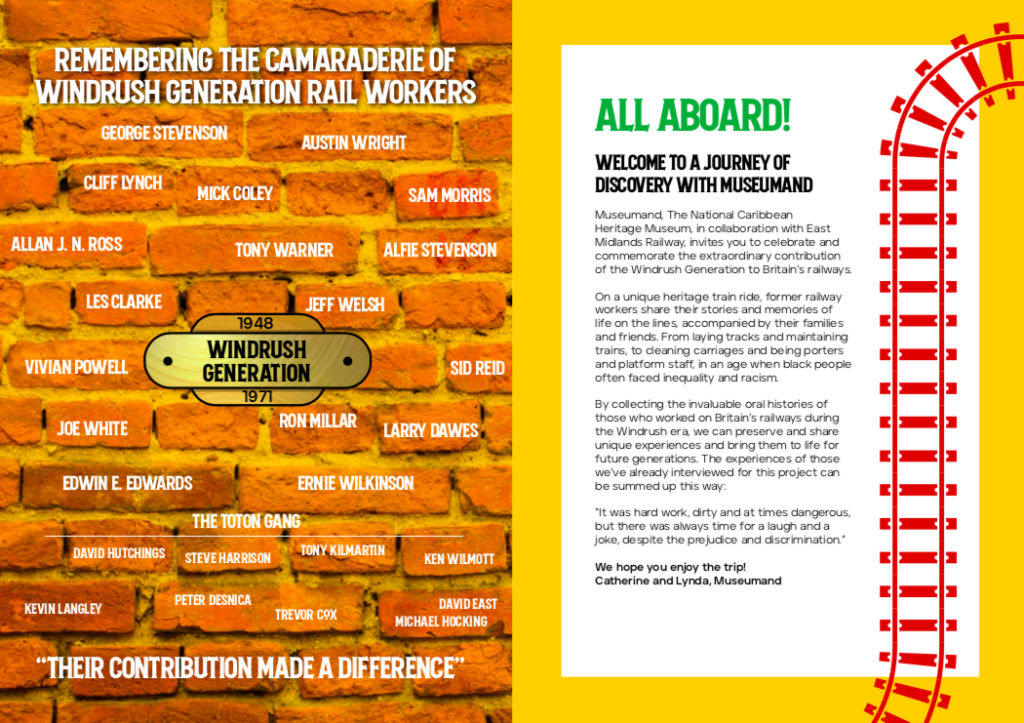 When the Heritage Train Trip reaches London, former railway workers and their families will have the opportunity to visit commemorative plaques installed to honour two railway workers from the Windrush Generation, and the National Windrush Monument at Waterloo Station.
The first blue plaque is at nearby Kings Cross station and commemorates Wilston Samuel Jackson from Jamaica, who in 1962, became Britain's first Black train driver. At the time, driving a train was considered a job for white people only, but Jackson didn't give up. He spent years maintaining trains and then worked as a train fireman or "boilerman" in hot and filthy conditions, studying in the evenings to pass his train driver exams. He also had to contend with racism and discrimination in the workplace, and went on to save the life of his fireman when their train was involved in an accident.
The second commemorative plaque at Euston Station celebrates the contribution of Asquith Xavier from Dominica. In 1966, experienced train guard Xavier applied for a transfer to Euston station and was rejected because of the station's 'whites-only' recruitment policy. Xavier stood up to the injustice and not only got his job, but helped to stamp out racist recruitment policies across the railway and encourage Parliament to bring in a new law making workplace discrimination illegal throughout the UK.
The National Windrush Monument is a bronze statue erected in 2022, commemorating the Windrush Generation's lasting contribution to the UK, including the railways.
Kaye Robinson, Community Engagement Manager at East Midlands Railway, said:
"We are proud to support this event and the work that Museumand, The National Caribbean Heritage Museum do to commemorate and celebrate the Caribbean contribution to life in Nottingham and the UK. The Windrush Generation played a vital role in rebuilding and operating our railways following the war and I'm sure everyone taking part on the trip will find the day both interesting and inspiring."
To find out more about the Heritage Train Trip and buy a copy of the souvenir programme please email catherine@museumand.org