How the Pardner Hand system inspired the development of the Credit Union Movement in the 1960s and beyond
Hornsey Co-operative Credit Union
Ten members of the Ferme Park Baptist Church set up a Pardner Hand scheme in 1962 after being refused credit by British banks. By April 1964, the members had formed themselves into a credit union called the Hornsey Co-operative Credit Union, Haringey. Credit unions were popular in the Caribbean, so for the Windrush Generation, joining a credit union was a financial tradition they already felt at home with.
The Hornsey Co-operative Credit Union grew to 100 members within a year, heralding the increasing popularity of the credit union movement throughout the UK. From 1979 onwards, credit unions were registered and regulated as legal structures under the Credit Unions Act, and by 1998, 38% of Caribbean British adults were members of credit unions.
The Hornsey Co-operative Credit Union ran until 2013, when it merged with the London Capital Credit Union, a not-for-profit savings and loans co-operative that is still supporting people today.
The Pentecostal Credit Union
The Pentecostal Credit Union (PCU) began life as a Pardner Hand scheme in 1965, before becoming a credit union in 1980. It was set up to support members of the Pentecostal Church movement by Reverend Carmel Jones and went on to celebrate its 40th birthday in 2020 as the UK's largest Black-led credit union.
For many descendants of the Windrush Generation, credit unions are still as relevant to them as they were to their parents and grandparents, with many Black entrepreneurs turning to them after being refused help to launch their businesses by mainstream banks. For example, the PCU offers its members competitive loans and high interest savings accounts, as well as masterclasses around financial literacy and entrepreneurial skills.
According to figures from the Bank of England, around 1.93 million people in the UK were members of a credit union in early 2022 – 22,000 more compared to the same period in 2021.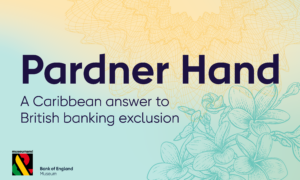 Life Lessons from the Pardner Hand
The Pardner Hand's success isn't just down to teaching personal financial responsibility, but also the lessons in trust it provides to communities, and the wider life lessons it shares.
These life lessons include the importance of:
Valuing your culture and not risk losing it, by hankering after what others may have.
Being part of a 'tight' and close-knit community.
Supporting your own community – for instance, by working in or buying products and services from Black businesses.
Ensuring money is circulated and kept in your community, to alleviate poverty, create opportunities, and develop safe, secure, sustainable, neighbourhoods.
Keeping the Black community vibrant and sustainable by avoiding behaviours that may lead to criminality or declining infrastructure.
Not believing the propaganda of those who seek to diminish or destroy what Black people have, or appropriate it for themselves without giving credit.
What can you do to help?
Joining a Pardner Hand scheme or Credit Union is a great way to support your local community, while helping to preserve African and Caribbean history, heritage and culture. It could also benefit you financially, by helping you save and borrow with no interest, no late payment fees, and less chance of being sucked into further debt.
Encourage children and young people to get involved!
To keep the Pardner Hand system alive and well for future generations, why not encourage the children and young people in your family to join a Pardner. It will help get younger children into the habit of regular saving, and could even help older children onto the housing ladder.
The Pardner Hand system gave many Windrushers an invaluable leg-up, and it could do the same again today, for your grandchildren and great-grandchildren.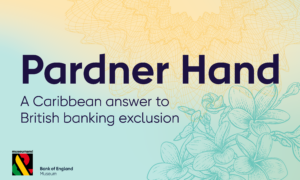 Money and music
The lyrics of the Pardner Hand
The words of many Caribbean songs capture the relationship between Black people and money. From calypsoes offering a witty social commentary, to timeless classics recording by global artists like Billie Holiday.
Here are some of our favourites:
Pardner Draw
Wait 'til me get me pardner draw
Ago buy mama everything weh she waan
Wait 'til me get me partner draw
Me fren dem cyan tell me say dem raw
All when the draw is not a portion
Bredda hold a Nike, sister hold a lotion
Wait 'til me get me partner draw, draw, draw
Recorded by Skullman, Jamaican Dancehall artist in 1989
Re-released as Partner Draw by Shane O, Dancehall artist and producer, in 2018
Poco Party
I want everyone to join the party posse and have a good time!
The more the merrier!
Di more di merrier! aha
Di more di merrier! aha
Di more di merrier! Follow me now!
The barrel (foreign) and the family come
So I'm gonna have some fun
And when I dress up in mi nice Tan-Dan, hey hey!
What a lala party land… yuh see
Long long time, we no have no nice time
Now I feel the spirit moving in me
So mark my words
Anytime you miss me
I'll be jumping in a poco party! tan good!
Play a poco song for me
I wanna jump wit di poco posse
One blood in harmony
All a we are one big happy family… yuh see
Recorded by Lloyd Lovindeer, Jamaican Dancehall DJ in 2009
God Bless The Child
Mama may have, Papa may have
But God bless the child that's got his own, that's got his own
First recorded by Billie Holiday, American Grammy Award-winning jazz singer in 1941 (written by Billie Holiday and Arthur Herzog Jr in 1939)
Money In My Pocket, But I Just Can't Get No Love
Money in my pocket, but I just can't get no love
Money in the pocket, but I just can't get no love
The love I had in mind was very, very hard to find, oh"
First recorded by Dennis Brown, Jamaican singer-songwriter in 1972
Money (That's What I Want)
Money don't get everything, it's true
But what it don't get I can't use
I need money (That's what I want)
That's what I want (That's what I want)
That's what I want (That's what I want)
That's what I want (That's what I want)
First recorded by Barrett Strong for Tamla Motown in 1959 and later covered by The Beatles in 1963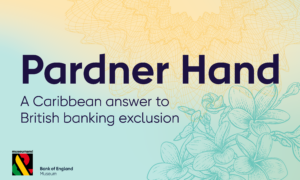 A final thought…
When they arrived in Britain, the Windrush Generation were excluded from the British financial system and used the Pardner Hand to survive and thrive.
75 years on, a group of Windrush Generation members visited the Bank of England to help create an exhibition sharing their remarkable story. From the racism and discrimination they experienced, to how the Pardner Hand became the secret of their success.
For Windrushers, the Pardner Hand system is part of the history that brought their ancestors from Africa to the West Indies, and a part of their own personal journeys from the Caribbean to the UK.
For all of us, the Pardner Hand is part of the extraordinary contribution the Windrush Generation and their descendants have made to life in Britain. It is a cultural gift from Africans to the world, and the Windrush Generation has helped Britain to benefit from it too.
Now and then
It is testament to the strength and resilience of the Windrush Generation that the exhibition of their story is now on display in the Bank of England museum, at the heart of the British financial system that excluded them.
However, the story of the Pardner Hand doesn't end there. The system is evolving in many places across Britain, with schemes becoming credit unions and community banks.
For many members of the Windrush Generation, joining a Pardner Hand scheme was a form of boycott against the racism and discrimination they experienced, as well as a financial necessity. Today, community-based systems like the Pardner Hand are still helping Black communities tackle economic inequality and power innovation.
The more people that join these community-based schemes, the more we can use our combined financial resources to benefit each other, and the places where we live. From smaller, short-term 'hands' that help everyone navigate the rising cost of living, to larger, long-term 'hands' that enable everyone to thrive, or invest in community schemes such as community owned and run enterprises. Either way, you will be contributing not just to a Pardner Hand scheme, but to your quality of life.
As the descendants of the pioneering Windrush Generation, we must continue to be bold and share our stories. From the racism and discrimination that still hinders full participation in British society, to the African and Caribbean heritage and culture that enriches us all.
What do you think?
Will credit unions and community banks become the new way to save and borrow? Or will the more informal Pardner Hand system remain supreme, re-imagined through a new generation of apps?
We hope our exhibition has inspired you to join a local Pardner Hand scheme, or start one of your own!