It was an emotional moment for members of the Windrush Generation when the National Windrush Monument paying tribute to their ambition, courage and contribution to Britain was unveiled at Waterloo Station in London yesterday. The sculpture, by artist Basil Watson, shows a man, woman and child dressed in their 'Sunday best' clothes, climbing a mountain of suitcases hand in hand. Watson's parents travelled from Jamaica to the UK as part of the Windrush Generation, with his father, the painter Barrington Watson, coming to study art.
"In trying to figure out how to depict a generation that spans four decades, I thought: where along that line do I pitch the design? I decided to start at the beginning, that's where everything starts and moves forward. The suitcases represent the family's belongings and culture, everything they brought with them."
The unveiling ceremony was attended by members of the Windrush Generation and the Duke and Duchess of Cambridge, with the event livestreamed across the country.
Watch the livestream of the unveiling
Hear the thoughts of Windrush pioneers who attended the event
Watch highlights including speeches by Prince William and Baroness Floella Benjamin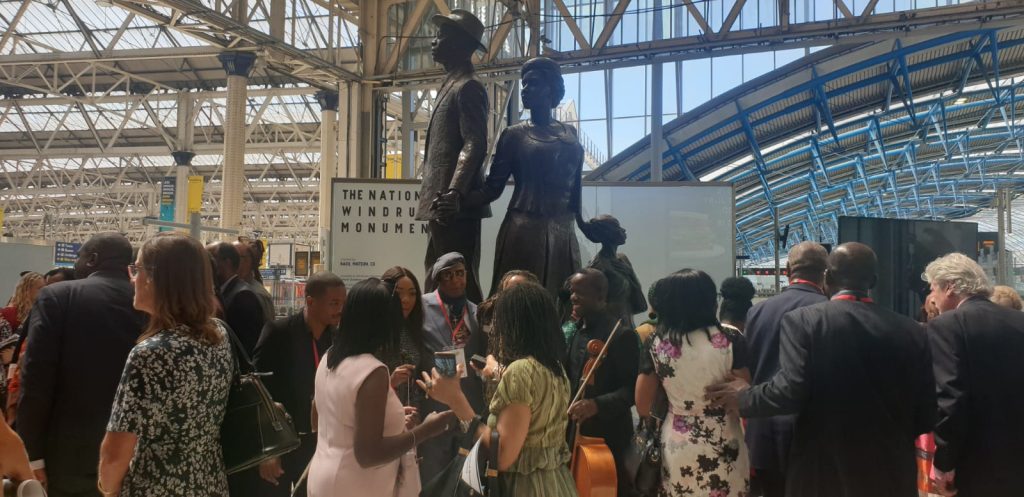 Baroness Floella Benjamin, the chair of the Windrush Commemoration Committee, said the monument would provide a permanent place of reflection, celebration and inspiration for Caribbean communities and the wider public.
"It will act as a symbolic link to our past and a permanent reminder of our shared history and heritage for generations to come. I hope it will be a catalyst for other monuments across Britain commemorating the extraordinary contribution to this country by the Windrush Generation."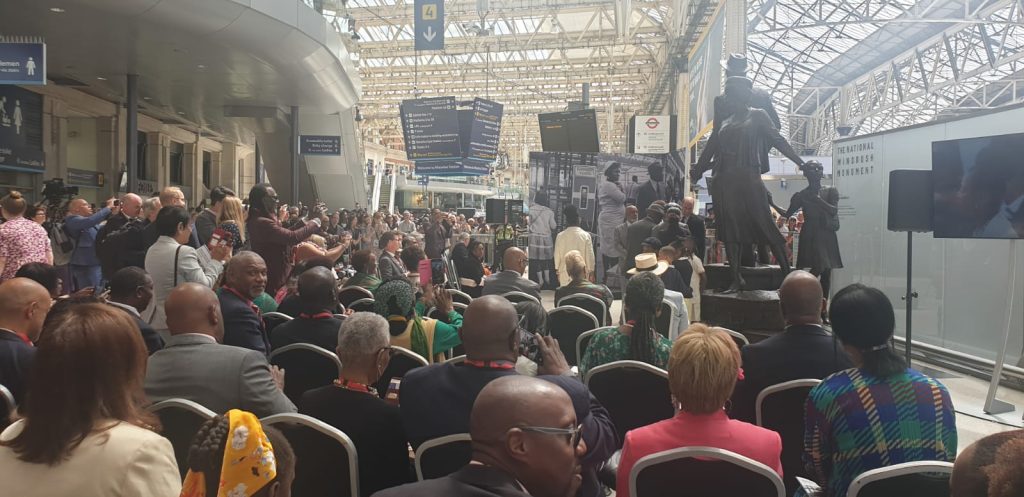 Prince William spoke about the immense contribution made by Windrushers saying:
"Every part of British life is better for the half a million men and women of the Windrush Generation. We know without question, that the Windrush Generation have made our culture richer, our services stronger, and our fellow countrymen safer."
He also spoke about his recent visit to the Caribbean and the impact of racism and discrimination.
"Our trip was an opportunity to reflect, and we learnt so much. Not just about the different issues that matter most to the people of the region, but also how the past weighs heavily on the present.
 "Sadly, that is also the case for members of the Windrush Generation who were victims of racism when they arrived here, and discrimination remains an all too familiar experience for black men and women in Britain in 2022. Only a matter of years ago, tens of thousands of that Generation were profoundly wronged by the Windrush Scandal. That rightly reverberates throughout the Caribbean community here in the UK as well as many in the Caribbean nations.

 "Therefore, alongside celebrating the diverse fabric of our families, our communities and our society as a whole – something the Windrush Generation has contributed so much to – it is also important to acknowledge the ways in which the future they sought and deserved has yet to come to pass."
The Queen also sent a message saying:
"It gives me great pleasure to extend my congratulations on the creation of the National Windrush Monument. The unveiling at Waterloo Station on Windrush Day serves as a fitting thank you to the Windrush pioneers and their descendants, in recognition of the profound contribution they have made to the United Kingdom over the decades."
Watch the livestream of the unveiling
Hear the thoughts of Windrush pioneers who attended the event
Watch highlights including speeches by Prince William and Baroness Floella Benjamin