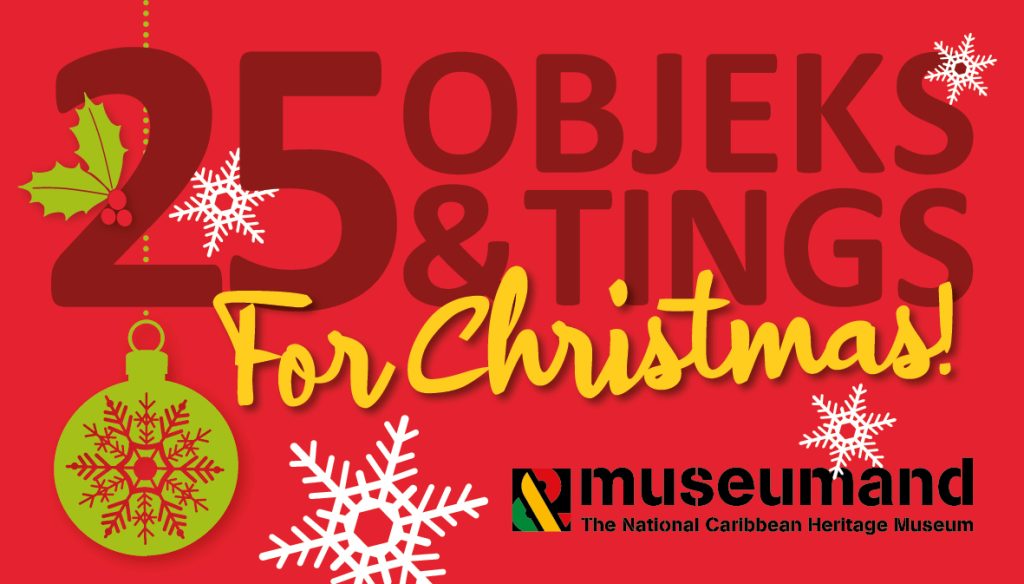 Caribbean Christmas traditions are laden with meaning and include reminders of the African, Caribbean and British culture, customs and history. They confirm Caribbean identity.
Food, fellowship and fun characterises the festive season with many events going on until sun-up as revellers enjoy seasonal ceremonies, public and private events.
Though Christmas cake features as a must-have in Caribbean islands, each cake produced will be influenced by the particular island the cook is from and then by a family's favourite ingredients and baking methods. No two cakes are the same, and you'll have fun sampling those offered!
Christmas is also a time when many people of Caribbean descent in Britain visit their country of origin and/or send barrels of goodies to their family and friends that still live there.
Here are 25 Christmas Objeks And Tings that make the festive season – we'll be counting down to Christmas by sharing more about the objeks and tings below – follow us on social media and on our website for daily updates!
1. Jar of rum-soaked dried fruit
A pre-Christmas tradition that provides the foundation for another Caribbean tradition – Caribbean Christmas Cake. The contents of the jar include dried fruit soaked in rum, red wine and the family's favourite alcoholic tipple.
2. Rum
This creation of the Caribbean enslaved is now a worldwide and popular drink. Its early names were kill-devil, rumbullion, and Barbados water. Many islands have their own blend of dark rum. Rum is enjoyed just as a drink, in cocktails, and in many Caribbean desserts, particularly celebration cakes like Christmas cakes.
3. Black Cake
This is so named as the key ingredient is rum-soaked dried fruit creating the cake's very dark colour. Celebration cakes enjoyed by Caribbeans are generally black cake particularly Christmas cake, black, boozy and beautiful. They can be made even darker using gravy browning.
4. A Festive Caribbean Breakfast
Ackee and saltfish with a serving of breadfruit and boiled green bananas is a piece of Caribbean history on a plate, and a very popular breakfast in the Caribbean. Breadfruit became part of Caribbean history when it was brought to St Vincent in 1793 by Captain William Bligh.
5. Carnival Costumes
Traditionally, Carnival costumes were homemade. Enslaved Caribbeans used pieces of fabric given by plantation owners, or from the cast-off clothing given particularly at Christmas. Costumes in Caribbean carnivals such as Junkanoo, which takes place on Boxing Day and New Year's Day, help tell the story of characters that are culturally significant and are a part of Caribbean and African history.
6. Caribbean Riddims
Music is a strong all-year-round feature of Caribbean culture with calypso, soca, reggae and dub resounding on the airwaves wherever Caribbeans reside and revel. Christmas favourites include carols and hymns with traditional tunes put to Caribbean riddims, and classics like Boney M, Harry Belafonte and Carnival Calypso.
7. Scents at Christmas
Caribbean homes are scented with natural products such as pimento, cinnamon, ginger, coconut and nutmeg. Sprigs of these are put up around the home, or a potpourri of spices is made, signalling that Christmas is here.
8. Social Events
Carnivals feature during the Christmas period in many Caribbean islands. Church services are attended on Christmas Eve or Christmas Morning. Traditionally families meet friends and go for beach picnics, walks and open-air concerts. Serenaders go from street to street singing and wishing families the season's best, sometimes with lyrics personal to the family or street.
9. Drinks
Rum is an all-year-round drink for many Caribbeans but at Christmas time a traditional drink of sorrel is enjoyed with or without alcohol. Sorrel is a tangy, spice-infused, red-coloured drink made from the flowers of the plants harvested from November to January, the Christmas season. Other Christmas drinks include Ponche-de-Creme and ginger beer.
10. Christmas Decorations
Festive bunting in public and private spaces includes banana leaves, bamboo and coconut palms. Decorations include sea-shells and coloured lights called 'pepper lights'.
11. Christmas Market
Many islands have a Christmas Eve market where produce and presents can be bought. Shoppers are entertained by performers where the markets are open throughout the night.
12. Family Activities
As Christmas is the season of goodwill, families prepare for visitors, and to take food gifts to those in need, so baking becomes a family activity. Cakes, buns, tarts, pork bread and sweet bread are baked, and beverages prepared. Activities for preparing the home include painting the exterior, making new curtains and furnishings, and doing up the yard ready to receive visitors.
13. Christmas Dinner
Although turkey might not feature on many family menus, baked ham will for many, as well as roast chicken, pork and curry goat. Rice and peas will also be served but instead of red kidney beans, gungo peas will be used.
14. Boxing Day
Barbados still operates a tradition of delivering boxes of gifts to friends and family on "Boxing Day". This tradition was introduced to the island by the British plantation owners four centuries ago. Boxing Day was an opportunity for children to box up unwanted toys and give them to the poor, and for others to give other gifts to those in need.
15. Christmas Weather
By the time the festive season arrives, the temperature in many countries is cooler than at other times in the year. Those resident on the Caribbean isles may comment that the weather is 'cool' but many visitors to the island find the temperature a little more bearable than that in the summertime.
16. Christmas Dances
Dancing at Caribbean Carnivals and parties during the festive season will involve movements that emphasise hip rolling and hip twisting. Moves will also include whining – the thrusting and rotating of the waist without much foot movement. Jamming, another dance, is more dancing on the spot when carnival crowds make it harder for revellers to move around freely.
17. Christmas Games
Well, this game gives cricket a run for its money as being the favoured game in the Caribbean, but Dominoes is extremely popular. It's played with passion, played by men and women, and is one of those games children learn to master by watching elders play. Guests will expect to play a game or two, and families can bond as they play it.
18. Christmas Greetings
There will be some Caribbean phrases you hear a lot at Christmas. Traditional phrases such as 'Blessings' which means 'God Bless! The Season's Best!' and 'Wha gwaan' which means 'How are you? What's the latest?' –  an invitation then for a real catch up!
19. Church Services
Whether it's Christmas Eve or Christmas morning many Caribbeans will try and get to church. Church services will give members the opportunity to show their talents through making recitations, singing in the choir, playing a musical instrument or through worshipful dance. Members will take gifts during this season of goodwill to members of their community unable to make it to church, or to those in need in their local community.
20. Christmas Makeover
Getting your hair done is a must. Christmas is the time of year when you want to get noticed. Is it going to be a new cut, a new style, or a new hair colour? A visit to a hair salon or barbers is not just for this purpose, it's a great time to catch up on the latest community happenings and where the best parties are going to be!
21. Caribbean Riddles
The riddles are usually asked by older people in family gatherings who are trying to impress others they think won't be able to answer at all or will take a long time to figure it out.  It's usual to signal it's time for riddles with the words, "Riddle me this. Riddle me that. Guess me this riddle or perhaps not." Here's a riddle for you: "What's yours that other people use more than you do?" In this Christmas season in particular – the answer, your name!
22. Mealtime Capers
Watch out at mealtimes for older people's pranks that have been done for generations! They distract younger people and take choice items off their plate, usually the ones they know the person is saving to eat last because it's their favourite food on the plate! Beware, this practice inevitably causes tears from unsuspecting children.
23. Christmas Barrels
The Windrush Generation in Britain found one way of supporting their family back in the Caribbean was to send household items, clothes and toys to them in barrels.  Shipping companies are particularly busy from September when these barrels are shipped in time for Christmas. Some of the items are sent as gifts, others for family and friends to sell, so they could buy the things they really need.
24. Christmas Tea
Herbal teas are now very popular in the UK, but Caribbeans have been drinking them for generations. Some of the most popular (which should be kept handy in the kitchen cabinet to help with having too many portions of festive foods) include those to help with things like indigestion, an upset stomach and a need to detox. Popular Caribbean "bush teas" to help with these are peppermint, cerassee and ginger.
25. Unusual Seasonal Vegetables and Fruit
Prickly pears can be peeled and eaten raw and used to make liqueur, syrup, jellies, preserves and candy. Its juice is a preventative measure against hangovers. Perhaps a good thing to have to hand! Despite their name, juicy June Plums, also known as Golden Apple and Jew Plum are not available in June, but from November. The taste is a combination of sweet and tangy similar to cherries, mangoes, pineapples and star fruit. Captain Bligh also brought this fruit to the Caribbean!
What are your favourite Objeks And Tings for Christmas? We'd love to know!