It's not every work event I go to that I meet someone who's acknowledged as a legend by his peers. At a private viewing of Michael McMillan's exhibition, Rockers, Soulheads and Lovers: Sound Systems Back in Da Day, on 19 March 2016, I had such an opportunity.
The exhibition at the 198 Gallery in London was curated as a Blues Party. It was wonderfully nostalgic and immersive and the graphics and branding were amazing. I expressed my admiration of them to Michael, who said he'd introduce me to the person who designed them. I had never heard of Jon Daniel before that moment, but in the short five minute conversation I had with him, I knew I was in the presence of brilliance, a very affable and generous one.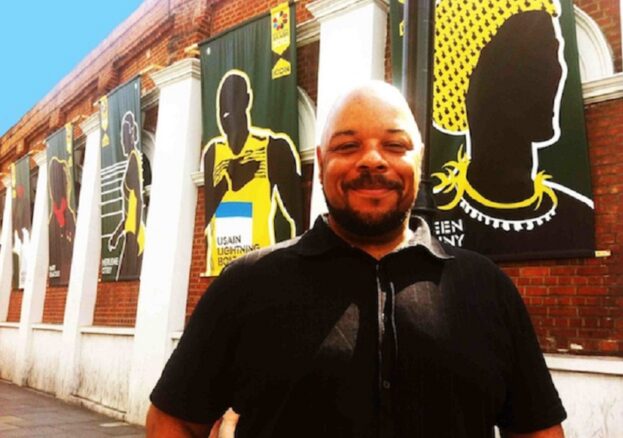 I plucked up the courage to assert my belief in the expression carpe diem and asked if he would help me, a newbie in the heritage world, to design a logo for a museum I had set up. At the early stage of its life, the museum needed a knock-out logo to grab people's eyes, hearts and minds. 
I explained my ambitions and aspirations for a new kind of museum to Jon. A museum that would be inclusive and appeal to everyone, tell heritage stories in new and exciting ways, and create unique, innovative, must-see exhibitions and events.
At that point, the museum's name was The National Caribbean Heritage Museum, and its tagline was Museumand, because I was envisioning a heritage organisation that would be a museum…but so much more.
Jon grasped the idea immediately and said I should make the tagline part of the name. Then he focused on the word 'and'. He explained how it would give us scope to grow and continue to share heritage in many different forms, and how it would be more powerfully presented if it was used as a symbol in our branding. Inspired! A true Jon inspiration!
Whenever anyone comments on the museum's name they say it's genius and how powerful the ampersand looks dressed in colours found in many Caribbean flags and cultural identities. I've continued to apply the lessons I learned from meeting Jon following our chance encounter, including 'always get the best person for the job'. I certainly did!
Jon was an award-winning art director and graphic designer who worked on memorable campaigns for IBM, Virgin Direct and NHS Careers. A man of many talents, Jon was also an author, collector and curator who championed African culture and heritage and supported Black organisations such as Black Cultural Archives, Black History Month's online and paper magazine, and of course, Museumand, The National Caribbean Heritage Museum.
This article was originally published at blackhistorymonth.org.uk