14 January – 19 March 2017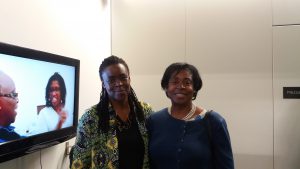 In collaboration with The New Art Exchange, Nottingham,  our exhibition The Art of Black Hair is a celebration of afro hair and an exploration of hair styling as an art form.
To create this exhibition, NAE and Museumand held an event where local communities were invited to share their stories, memories and experiences related to hair. The result is a series of photographic portraits and a video piece that captures the contributors' personal Journeys, their daily rituals of hair care, and the beauty of afro hair styling as an expression of  creativity, imagination and heritage.
The contributors also responded to a selection of hair and beauty memorabilia from Museumand's Collection. We've displayed these items again here, and the whole exhibition is designed to trigger more contributions from our visitors over the period of the show. So please journey across  the two floors of the exhibition and leave your reflections in the interaction zone.
Following the exhibition, this important piece of local research and documentation will join the collection of Museumand. NAE and Museumand would like to thank everyone that took part. Photographs by Bartosz Kali and film by loney Smallhorne.