The

museumand

Culture Calendar
31 of the best Black Culture films to celebrate Black History Month 2020

 
To celebrate Black History Month 2020, we've curated reviews of must-see films with the help of our supporters and some very well known names featuring, exploring and celebrating Black Culture on the big screen.
Guaranteed to inspire, uplift and stir your emotions, some films will make you laugh, others will make you cry, but all will help you see things in a different way, learn things you never knew and embrace messages more relevant than ever in today's world.
Discover new stories and rewatch old favourites throughout the month and let us know what you think of our selection.
We'll be adding a film a day on here and on our socials so check back to see the list unfold throughout the month, plus, s

hare your thoughts at hello@museumand.org
---

Queen & Slim – 2019
Nominated by:
Beverley Bryan, Author & Retired Professor of Language   
Plot 
A couple's first date takes an unexpected turn when a police officer pulls them over. Queen & Slim stars Daniel Kaluuya and Jodie Turner-Smith and is directed by Melina Matsoukas. Matsoukas, and the film's writer, Lena Waithe, have both called the film "a meditation on Blackness". The film, which centres on the injustices of racism and police brutality, was inspired by real headlines, including the fatal shooting of Trayvon Martin. Waithe told USA Today "it's almost a battle cry for every Black person we've lost from a gun or vigilante's gun simply because of the fact that they're Black." 
---

Black Panther – 2018
Nominated by:
Dawn Butler MP & Diane Abbott MP   
Plot 
T'Challa, heir to the hidden but advanced kingdom of Wakanda, must step forward to lead his people into a new future and must confront a challenger from his country's past.
In their own words
Diane Abbott
I would choose Black Panther. I think it might introduce people to black film making who wouldn't have considered it before, it is steeped in African culture and because it was such a box office success it might encourage the industry to make other films featuring black people, black culture and black film makers. 
Dawn Butler 
Black Panther explores the importance of black self organisation. 
---

What's Love Got To Do With It – 1993
Nominated by:
Catherine Ross, Museum Director   
Plot 
Anna Mae Bullock is raised in unhappy surroundings. After moving to St Louis, Anna attempts to be a professional singer and achieves success, leading to a strained relationship with her husband. The story of singer Tina Turner's rise to stardom and how she gained the courage to break free from her abusive husband, Ike Turner.
---

Sitting in Limbo – 2020
Nominated by:
Terry Burgin, Garden Enthusiast   
Plot 
A shocking drama inspired by the Windrush scandal. After 50 years in the UK, Anthony Bryan is wrongfully detained by the Home Office and threatened with deportation.
---

Guess Who's Coming to Dinner – 1967
Nominated by:
Olive Coward   
Plot 
Joanna, a young woman raised with liberal values, brings home her fiance John, a widowed, black physician. Over dinner, Joanna's parents' apprehensions become evident causing trouble for the couple.
Thoughts from Museumand  
The film promotes love, acceptance, family, and equality; but has been criticised for not going far enough. It stars three legendary names in American cinema – the Academy Award winning actors Sidney Poitier, Katherine Hepburn and Spencer Tracy. 
---

Dreamgirls – 2006
Nominated by:
Enid Saunders   
Plot 
Based on the 1981 Broadway musical, Dreamgirls is a story of greed, personal struggles, and romance. Three young black women are aspiring popstars who get a chance to be backing singers. A start – but not their final destination.
Thoughts from Museumand  
A story of grit and determination, of keeping your eye on the goal, no matter what. Dreamgirls shows that black women can – which is an important message to emphasise during Black History Month. The film illustrates the importance of sticking by each other as a team, so that self-serving goals won't break up a working partnership and friendship. There is also a salutary message about how you envisage fame and fortune at the start of a career may be very different to what actually happens, so be prepared for anything.
---

Cry Freedom – 1987
Nominated by:
Ian Thomas, Magazine Editor  
Plot 
Donald Woods (Kevin Kline) is chief editor of the liberal newspaper "Daily Dispatch" in South Africa. He has written several editorials critical of the views of Steve Biko (Denzel Washington). But after having met him for the first time, he changes his opinion. They meet several times, and this means that Woods and his family get attention from the Security Police. When Steve Biko dies in Police custody, he writes a book about Biko. The only way to get it published is for Woods to illegally escape the country.
Thoughts from Museumand  
This is a  powerful and evocative film that reminds viewers of the many periods of history fraught with the struggle of black peoples to get justice and freedom when the human potential of their comrades has been snuffed out violently and few are held to account for it. 
---

Cool Runnings – 1993
Nominated by:
Lenny Bedward 
Plot 
Four Jamaicans form their country's first ever bobsled team to compete in the upcoming 1988 Winter Olympics. They enlist the help of a disgraced former Olympic gold winner to reluctantly coach them. However, when they reach Canada they're treated as outsiders by the other teams, who fear they'll only succeed in embarrassing the sport.
Thoughts from Museumand  
The messages of the film are: Believe in yourself. Stay positive no matter what. See whatever you do through to the end. Know who you are, don't let others define you! 
---

Dancehall Queen – 1997
Nominated by:
Lynda Burrell, Creative Director  
Plot 
A single street vendor disguises herself for a dance contest, and pits her enemies against each other.
---

The Color Purple – 1985
Nominated by:
Beverley Fearn, Operations Manager  
Plot 
The Color Purple is a 1985 American coming-of-age period drama film directed by Steven Spielberg with a screenplay by Menno Meyjes, based on the Pulitzer Prize-winning 1982 novel of the same name by Alice Walker. The film stars Danny Glover, Whoopi Goldberg, Desreta Jackson, Margaret Avery, Oprah Winfrey, Rae Dawn Chong, Willard Pugh, and Adolph Caesar. The film tells the story of a young African American girl named Celie Harris and shows the problems African American women faced during the early 20th century, including domestic violence, incest, pedophilia, poverty, racism, and sexism. Celie is transformed as she finds her self-worth through the help of two strong female companions. 
---

Mudbound – 2017
Nominated by:
Andrew Boyce  
Plot 
Two men return home from World War II to work on a farm in rural Mississippi, where they struggle to deal with racism and adjusting to life after war. One family is black, the Jacksons, and the other is white, the McAllans. A friendship does develop but it's difficult in a land where segregation and hatred is perpetuated by the law…
Thoughts from Museumand  
The film explores themes of love, family, loyalty, duty, and the uneasy relationship between African Americans and white Americans in the South.  The film deals with issues still being faced by black people around the world today including racism, inequality and violence. For even after putting our lives on the line in two world wars the level of respect and equality expected is rarely received. Thought-provoking. Upsetting. And if we're bold enough to be defiant we are punished.
---

I Know Why The Caged Bird Sings – 1979
Nominated by:
Catherine Ross, Museum Director  
Plot 
Based on writer Maya Angelou's childhood, this story is about a young girl in the South who is sent to live with her grandmother after her parents' divorce.
In Their Own Words  
"Maya Angelou's book, I Know Why the Caged Bird Sings, is one of the most banned books in America. It's been challenged for being 'anti-white' and encouraging homosexuality, as well as for it's hard-hitting depiction of sexual violence. It's overcome many of the attempts to remove it from school reading lists with Angelou herself saying: "I'm always sorry that people ban my books. Many times I've been called the most banned. And many times my books are banned by people who never read two sentences. I feel sorry for the young person who never gets to read." 
---

Selma – 2015
Nominated by:
Dr Sheine Peart, Lecturer & Terry Burgin, Garden Enthusiast 
Plot 
Follow Dr Martin Luther King Jr's journey as he campaigns to secure equal voting rights for black people via an epic march from Selma to Montgomery, Alabama 1965. The film was directed by Ava DuVernay, written by Paul Webb and stars David Oyelowo, Carmen Ejogo and Oprah Winfrey. 
In Their Own Words  
Find out more about Selma in this fascinating interview with director Ava DuVernay.
---

Yardie – 2018
Nominated by:
Chris McCrae, Creative Design Director
Plot 
Based on the book by Jamaican-born writer Victor Headley this film was directed by Idris Elba. Set in '70s Kingston and '80s Hackney, Yardie centres on the life of a young Jamaican man named D who witnessed the murder of his older brother when he was a child. This has stayed with him and he has tried to turn his life to more positive things but someone from his past who wants retribution wants to put an end to that. 
In Their Own Words  
Some serious moral dilemmas presented in this film!
---

Hellzapoppin' – 1941
Nominated by:
Pen Mendonca, Graphic Facilitator
Plot 
Hellzapoppin' the film is an adaptation of a hilarious musical revue. It doesn't have a real plot but the action takes place on a country estate where a musical show is being made, and it seems anything goes. There is some romantic interest linked to mistaken identity and some bizarre scenes where people go to hell in limousines! The film is packed with funny gags, zany moments and some great Lindy Hop scenes.
In Their Own Words  
"I would like to suggest an absolutely magnificent scene from the rather unremarkable 1941 film Hellzapoppin', where Whitey's Lindy Hoppers dance troupe perform Franky Manning's mind blowing choreography, along with music from Slim and Slam. Lindy Hop came out of the Black communities in Harlem, New York, during the late 1920s, it is based on jazz, tap, breakaway and Charleston. This scene was designed to be completely irrelevant to the rest of the film so that it could be easily removed for racist audiences in the American South. To this day that scene remains the only part of Hellzapoppin' that anyone gives a damn about." 
Thoughts from Museumand
Slim and Slam were a musical partnership of the late 1930s and early 1940s, featuring Bulee 'Slim' Galliard and Leon Elliott 'Slam' Stewart. Slim Galliard had a very high IQ and was a bomber pilot during World War 2 in the Pacific. He could play the piano standing up or with his back to the keyboard! Slam Stewart played the double bass using the bow and at the same time, sang or hummed a note just above the note he was playing to create a unique sound. Whitey's Lindy Hoppers were a professional performing group of exceptional swing dancers – first organised in the late 1920s in the Savoy Ballroom by Herbert 'Whitey' White. The group changed over the years and was known by different names including Whitey's Hopping Maniacs and the Harlem Congeroo Dancers, before disbanding during the Second World War. 
---

Boyz n the Hood – 1991
Nominated by:
Dawn Butler, MP & Gernaine Thomas, Undergraduate 
Plot 
Written and directed by John Singleton and starring Cuba Gooding Jr, Laurence Fishbourne and Hudhail Al-Amir, this classic film follows the lives of three young men living in the Crenshaw ghetto of Los Angeles to explore issues around race, relationships, violence and future prospects.
In Their Own Words 
Dawn Butler 
"Boyz n the Hood made me say wow because it broke down the extent of how the designing of environments, towns etc can be destructive." 
Gernaine Thomas 
"A moving tale about what life was like for black communities at a time when American gang and youth culture was at its height. Growing up in the 90s, I often heard stories about gang culture and my grandparents fearing that it would spread over here; which, to a sad degree it has." 
Thoughts from Museumand
Boyz n the Hood is a film about possibilities and potential in a community facing many issues – learning and growing together. The film shares some powerful messages around families, friendship, love and identity. Even when life is tough you can take control of your destiny. 
---

The Letter Reader – 2019
Nominated by:
Dr Patricia Noxolo

, Lecturer
Plot 
A young boy from Johannesburg arrives in KwaZulu-Natal and begins to read letters for villages – then falls in love with one of the recipients. Find out more about the making of the film in this article from Screen Africa
In Their Own Words 
"I've seen a lot of films about black culture! I found this one short and sweet."
---

Get on the Bus – 1996
Nominated by:
Conrad Richardson

, Social Worker
Plot 
Directed by Spike Lee, Get on the Bus tells the story of 18 African American men who board a bus in South Central Los Angeles, bound for the Million Man March in Washington DC arranged by Louis Farrakhan. Though representing a wide variety of backgrounds and viewpoints, these men gradually form a strong fraternal bond over the course of the long cross-country journey. Along the way, they discuss issues surrounding the march, manhood, religion, politics, and race; with events making them more aware of the issues, rifts and wounds that need to be healed.  
In Their Own Words 
"Get on the Bus is one of my favourite films. The purpose behind the march in real life came at a time when there was a rise in Afrocentric and Black consciousness amongst the Black community in the UK, whilst there was also the rise in post code conflict and subsequent drug problems in Nottingham (and the rest of the inner cities in the UK). 
Interestingly the film did not show the march taking place, but instead it showed a group of men expressing their thoughts and views in relation to the march and their experience as Black males living with racism and oppression. Very apt in terms of today's climate, when despite our differences as Black people, coming together and being united is our strength and the only way forward."
Thoughts from Museumand
It's a sad state of affairs when the subject and message of a film you watched a decade ago is still relevant and…Life generally goes in circles but when oh when are black people going to be able to get justice and allowed to breathe!
---

Boomerang – 1992
Nominated by:
Tajean Hutton

, Kick It Out Grassroots Manager
Plot 
A successful executive and womaniser finds his lifestyle choices have turned back on him when his new female boss turns out to be an even bigger player than he is. 
In Their Own Words 
"The film I'd like to highlight is Boomerang – starring Eddie Murphy and Hallie Berry. Although a known rom-com in category, it was one of the first films I watched which showcased black males and females in influential positions in the corporate world, from head of marketing, to CEO, to the face of a brand etc. From a young age I was fascinated to see black individuals dominate the world of business throughout the entire film." 
Thoughts from Museumand
Sometimes there are lines in a film that have you chuckling for months after. This, is one. It's great when the tables are turned. This was the situation in this film and it was worth seeing women getting their own back. A laugh a minute!!
Yvonne: You wanna come over for a cup of coffee?
Marcus: Not even if Jesus was pouring it.
---

Cabin in the Sky – 1943
Nominated by:
Dirg Aaab-Richards, Poet
Plot 
Cabin in the Sky is a 1943 American fantasy musical film based on the 1940 Broadway musical of the same name. A compulsive gambler promises his wife he will change, but before he does, he gets killed. He is offered a chance by angelic powers to redeem himself, but he must do so in six months or he will be sent to hell. The often-comedic film also features events that side-track from his promise to change his ways. He does turn his life around, but not in the way, or for the reasons expected. 
In Their Own Words 
"One of my favourite films is "Cabin in the Sky" (made for under a million dollars in 1943, by Vincente Minelli – Liza's dad!). I found it very strange that there were virtually no white people in the film. I watched it alone as a young child and it made a great impression on me. I now acknowledge it as a bit of a scary guilt trip for a young child and recall the 'angels' as black men in white suites and a lot of other hocum! Lovely singing from Ethel Waters and Lena Horne. There was a lot of drama, dancing and the threat of hell and damnation within the story. It remains an enjoyable film for me as an adult – although I haven't seen it very recently."
Thoughts from Museumand
This film may cause a 21st century viewer to cringe at some of the characters playing their part in stereotypical ways, but it's certainly one that should help us to straighten up with pride. This was an all-black cast with some of the established actors and musicians of that time in it. It's a heart-warmer, a moral tale and a delight to see a black life featured that truly reflects the black experience. 
---

Hidden Figures – 2017
Nominated by:
Dr Sheine Peart, Lecturer
Plot 
Three female African-American mathematicians play a pivotal role in astronaut John Glenn's launch into orbit. Meanwhile, they also have to deal with racial and gender discrimination at work.
In Their Own Words 
"Although Selma and Glory were also up there, the reason I chose Hidden Figures is because it shows Black women as they truly are – intelligent, strong and resourceful, with the wisdom to acknowledge the world as it is, and the guile and resilience to work with and around oppressive and punishing systems, never yielding to small minded bitterness. Kathryn Johnson, Dorothy Vaughn and Mary Jackson make advanced mathematics look like child's play as they work relentlessly and selflessly to make the space programme a reality.  They are truly giants as they maintain their humanity in a toxic, racist environment and act as beacons for us all.  They were an inspiration to women of colour then as they are now and while the film takes some dramatic liberties, it puts this golden trio exactly where they belong, on centre stage." 
Thoughts from Museumand
Hidden Figures introduces people to the ever-present struggle faced by black women, despite them having resilience and intelligence. It's a reminder that the achievements and contributions of black people to society often get overlooked, or hidden from the public gaze, and that our contributions have been in non-stereotypical roles, some at the very highest level. Many black people were amazed when the movie appeared, a common comment, "I never knew this", and there was some anger too; "Why were we never told"! What we hope more women and black people will take away from the movie is that if they could then, we can now.  If they can survive, and achieve in that difficult part of history, then there's no stopping us in the 21st century.
---

Babylon – 1980
Nominated by:
Vanceroy McCall    
Plot 
The story of Blue, a young man of Jamaican descent living in Brixton in 1980, as he hangs out with his friends, fronts a dub sound system, loses his job, struggles with family problems and has his friendships tested by racism.
In Their Own Words 
"Love this film, it takes me back. It deals with reggae sound system culture in London. It reminds me of my youth. What we went through, police brutality towards black youths in the '80's. Fighting with groups of white guys, well, them wanting to beat us up and challenge us, just because we were black. The racial divide of London in the 80s, the lack of jobs. Thatcher's England. The struggle was and is real. The soundtrack is legendary. This stuff really happened. I lived it."
---

Love Jones – 1997
Nominated by:
Devon Daley, Radio Broadcaster   
Plot 
Love Jones is an American romantic drama film written and directed by Theodore Witcher, in his feature film debut. Starring Larenz Tate, Nia Long, Isaiah Washington, Bill Bellamy, and Lisa Nicole Carson, Love Jones tells the story of Darius Lovehall, a young black poet in Chicago, who starts dating photographer Nina Mosley. The course of true love never did run smooth…
In Their Own Words 
"Love Jones is a DVD I prize highly. It incorporates sights for the soul, sounds with soul and is about the love between loyal souls. I run a film club in celebration of black culture at Derby Quad. The 'Feel Good Film Club' has shown about 75 titles over the last 10 years!"
---

Mahogany – 1975
Nominated by:
Joanna McCrae, Regional Recruitment Director  
Plot 
Tracy, an aspiring designer from the slums of Chicago puts herself through fashion school in the hopes of becoming one of the world's top designers. Her ambition leads her to Rome spurring a choice between the man she loves or her newfound success.
Thoughts from Museumand
Wikipedia describes Mahogany as a 1975 American romantic drama film, directed by Berry Gordy and produced by Motown Productions. The Motown founder Gordy took over the film direction after British filmmaker Tony Richardson was dismissed from the film. Mahogany stars Diana Ross as Tracy Chambers, a struggling fashion design student who rises to become a popular fashion designer in Rome. Fresh from the success of Lady Sings the Blues, this film served as Ross' follow-up feature film. It was released on October 8, 1975.
---

I Passed for White – 1960
Nominated by:
Margaret Hazel   
Plot 
A young mixed race girl tries to get employment in the State where she lives. Unable to get work she moves to another American State. There she meets and marries a white American but she doesn't tell him or his family and friends that she's mixed race. She doesn't feel she needs to, she loves him, he loves her, and she can "pass for white". However, it was while giving birth her secret unravels and the marriage is jeopardised.
Thoughts from Museumand
This is a sad film. It's one that will anger a lot of Black people as a girl of mixed heritage denies her racial origin and spends years hiding it from her husband, his family and their friends. The angst and the deception, the collusion with others to keep a secret, surely serves as a lesson on how not live your life. Would what she endured and experienced amount to living, or just surviving? Could it be deemed a form of imprisonment mentally and physically because you had to live a restrained and constrained life? Black History Month is a time when people turn to others within their culture, or holders of the knowledge of their culture, for answers and direction. An important one is what Black people fervently believe – family will always be there and who you really are you can't deny. Don't try!
---

12 Years a Slave – 2013
Nominated by:
Terry Burgin, Garden Enthusiast  
Plot 
Based on an incredible true story of one man's fight for survival and freedom. In the pre-Civil War United States, Solomon Northup, a free black man from upstate New York, is abducted and sold into slavery. Facing cruelty personified by a malevolent slave owner, as well as unexpected kindnesses, Solomon struggles not only to stay alive, but to retain his dignity. In the twelfth year of his unforgettable odyssey, Solomon's chance meeting with a Canadian abolitionist will forever alter his life.
---

Malcolm X – 1992
Nominated by:
Dawn Butler MP  
Plot 
The film is a biographical epic of Malcolm X, born Malcolm Little, who while he is prison for small time crimes having been a pusher, a hustler and a thief, discovers the Nation of Islam writings of Elijah Muhammad and eventually converts to Islam. The film tells how he becomes an influential Black Nationalist leader and a fiery advocate for black unity and militancy.
---

To Sir With Love – 1967
Nominated by:
Margaret Hazel – Retired NHS Midwife 
Plot 
Sentimental and heart-warming. A Black engineer takes a temporary job as a teacher in an East End School. The unruly and disruptive children are defiant but he perseveres and eventually wins them round with his unusual classroom and teaching methods. They eventually learn the lessons he wants them to – self-respect, and they help him to decide whether his calling is as an engineer or teacher.
---

Basquiat – 1996
Nominated by:
Chris McCrae – Creative Design Director 
Plot 
The brief life of Jean Michel Basquiat, a world renowned New York street artist struggling with fame, drugs and his identity.
---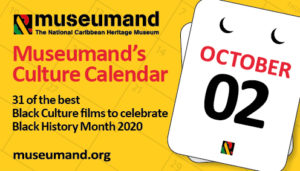 Do The Right Thing – 1989
Nominated by:
David Lammy – MP
Rob Berkeley – BlackOut UK
Plot
On the hottest day of the year in Brooklyn the temperature of the hate and bigotry in the area was only slightly higher. A simple question is perceived as a complaint, and leads to an explosion of violence, the result of the frustration of black people that had been simmering under the surface and the racial contempt of other groups in the community. The film ends with two powerful quotations, the first, from Dr. Martin Luther King Jr, who argues that violence is never justified under any circumstances. The second, from Malcolm X, for whom violence is not violence, but "intelligence" when it is used in self-defence.

The Harder They Come – 1972
Nominated by:
Neil Kenlock – Photographer
Dirg Aaab-Richards – Community Activist
Plot
A country boy goes to town to make it big as a Reggae singer but finds that his record producers are corrupt and have links with drug pushers. He doesn't get success as a Reggae singer and finds that life is harder than he thought so he resorts to dealing in drugs. He kills a policeman and becomes a fugitive, and one of Jamaica's Most Wanted, but a hero to the community. The title song of the film's soundtrack had this thought-provoking line, "I'd rather be a free man in my grave than living as a puppet or a slave."
In Their Own Words
"Another film I recall 'with a story' to tell.
When "The Harder They Come" starring Jimmy Cliff, opened in London in 1975, the whole family went to see the film at an early screening in Peckham (pre-Peckham MultiPlex).
I was paying for the family to see the film as a treat from my Christmas /Birthday money. (We didn't get 'pocket money'!)
I recognise that the film was adult and 'not suitable for children'; knowing full well that my little sister was a couple of years too young. I said to her please wear your highest heels. It might make a difference.
So we went to the counter to buy tickets and my dad was ahead and asked for the tickets…"and one child", he said.
It was touch and go but the ticket man took a look at my baby sister and said: "Oh she is very tall but you will have to pay for her as an adult".
Phew! We all got in… including my elevated baby sister.
Jimmy Cliff was our babysitter that night.
I recall one romantic portion of the film which was, let's say 'PG certified', and I felt obliged to put my hand over my sister's eyes. She must have been 12 years old. Fifty years later we still laugh about the incident…the night we went to see 'Jimmy Cliff' in a movie about Jamaica, having migrated to London only some six years earlier – it was a real treat. The storyline was cops and robbers and strayed a bit too far from the genteel, straight and narrow apple-pie-lifestyle, we enjoyed."
Thoughts from Museumand
Forbidden fruit is generally sweet. Better than expected and sometimes when you've sneaked into a cinema to see a film when you're not old enough and get away with it and the film meets expectation, it's certainly a cause for ecstatic celebration and a story you can dine out on for all time. Have you ever had such an experience?
This Reggae film is now regarded as a classic, presenting as it does Jamaican style, Jamaican issues and of course Jamaican music. Making its appearance in 1972 it was the first film made in Jamaica by Jamaicans. Its amazing success and almost cult status may have been as a result of the new emerging music genre, Reggae. The film features Jimmy Cliff in the lead role and three songs on the soundtrack – "You Can Get It If You Really Want", "Many Rivers to Cross" and "The Harder They Come" – are still regarded as ones that sum up the age and Jamaica. It was feared that because of the film's Jamaican genesis, and not having access to the usual channels for marketing, it could have slipped into oblivion. Did the music make the film?